Support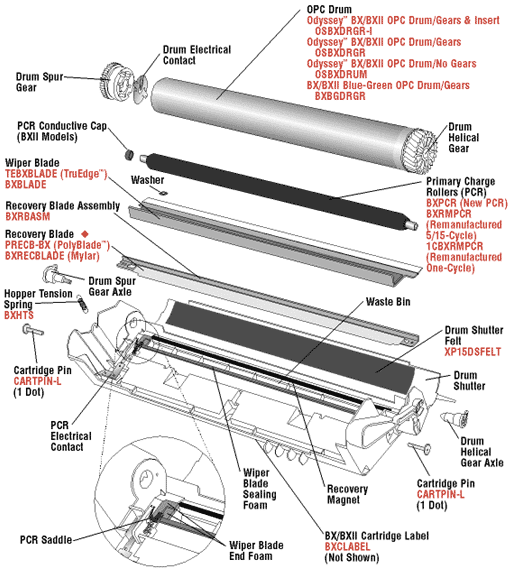 What is the toner cartriege.
Toner cartridge, also called laser toner, is the consumable component of laser printers. Toner cartridges contain toner powder, a fine, dry mixture of plastic particles, carbon, and black or other coloring agents that make the actual image on the paper. The toner is transferred to paper via an electrostatically charged drum unit, and fused onto the paper by heated rollers during the printing process.
What's the compatible toner cartridge?
A compatible toner cartridge is a new toner cartridge manufactured by a third party. It is guaranteed to be as good as your original laser printer toner cartridge. The toner cartridge is manufactured to the exact specifications of your laser printer.
What is the Remanufactured Toner Cartridges?
Remanufactured Toner Cartridges are made by third party manufacturer who take empty toner cartridges and remanufacture them to work like new cartridges without holes cut or drilled.
What's the principles of laser printers?
1)When data are transmitted from a PC to a printer, laser beams charge positive electricity on the OPC drum according to the characters or figures.
2) The toner that has negative electricity is stained on the magnetic roller, and attracted to the positive electricity of the rolling OPC drum to be stuck on the drum.
3) When the printing paper passes over this drum, the toner is stained and fixed on the paper by high heat and pressure
What's Compatible Inkjet Cartridge, Remanufactured Inkjet Cartridge or New Inkjet Cartridge?
Compatible Inkjet Cartridges:
Brand new cartridges that are not made by the OEM. They are just like your original Ink cartridges and meet the same standards.
In most cases, compatible inkjet print cartridges perform the exact same function as their expensive counterparts, but for much less. The printer warranty will not expire by using compatible inkjet print cartridges. HP and Lexmark do not allow compatible inkjet print cartridges due to the patent they have on the printhead.
Remanufactured Inkjet Cartridges:
Recycled printer ink cartridges that have been refilled with ink and given brand new printer heads. Remanufactured inkjet cartridges are a just as good and they are a great way to save on printer ink cartridges.

New Inkjet Printer Cartridges :
(Original Equipment Manufacturer) inkjet cartridges are direct from the original makers of the printer ink cartridges that came with your printer. New printer ink cartridges are most expensive.
What are Inkjet Refill Kits?
An option you have when your ink runs dry is refilling your empty inkjet cartridge with fresh ink from inkjet refill kits. Depending on the manufacturer, many inkjet cartridges can be refilled 3-10 times with inkjet refill kits. Inkjet refill kits allow you to refill the empty cartridge yourself.
What is the Proper way to handle cartridges?
Cartridges should always be handled with care. Do not touch the nozzles. You should keep your cartridges in the protective wrapping until you place them in the printer. If you keep empty cartridges to refill later, they should be stored in an airtight container until you refill them.
The compatible toner cartridge in actual saves my money?
The most expensive part of owning a laser printer is purchasing toner cartridges. You can expect to pay 6-7 times more for your toner cartridges than you paid for your laser printer. Over the five year life expectancy, compatible toner cartridges will cut your cost in half.
What is the best environment to store Compatible Toner Cartridges?
Please store in a dry place and below 350℃and avoid exposure to direct sunlight
Does a compatible toner cartridge void my manufacturer's warranty?
Absolutely not! It is against the law for a company to prevent you from using a compatible toner cartridge in your laser printer.
Is there any damage to my laser printer if to use a compatible toner cartridge?
A toner cartridge can do very little damage to a laser printer. It is possible, but highly unlikely, for a toner cartridge to leak and cause streaking on your paper. However, a simple cleaning and replacement of the toner cartridge will resolve the problem.
How about the shelf life of compatible toner cartridges?
Most compatible toner cartridges are guaranteed for at least one year. Don't purchase toner cartridges from companies that offer less than a one year warranty.
Does the compatible toner cartridge print the same page yield of original ones?
It will depend on the toner cartridge you buy. The industry standard is 5% page coverage. You can adjust density and resolution to maximize your printer performance. OEM toner cartridge is rated for a certain number of pages at 5% page coverage in which would be comparable to brief memo, small body of text and closure. As most users print pages with more graphics, gray scales and large amounts of text, which result using more toner (average about 7% page coverage) to print the images. Moreover, the actual yields and rated yields often vary due to different operating environment. If typical users print 7% page coverage, which it has already reduced the yield by about 40%. Hence, for OEM toner cartridge is rated for 10,000 pages, you will most likely get around 6,000 pages on average.
How do I help the environment if I have Compatible toner cartridges for my laserjet printer?
Each empty toner cartridge adds approximately 4 pounds of waste to a landfill. Because the cartridge is primarily composed of plastic, it will take over 1,000 years to decompose. In addition, it takes three quarts of oil to manufacture a new toner cartridge. The economy will save over twenty million gallons of oil a year because of compatible and remanufactured toner cartridges.
Why do I choose Compatible toner cartridges rather than original toner cartridges?
You will get the same quality and number of pages from a good compatible toner cartridge at nearly half the cost of an OEM toner cartridge.
Can I distinguish whether it's the printer's or cartridge's problem when the printout is not good?
Except for abnormal operation, use a new compatible inkjet cartridge and print several test pages. If the printout is still in poor quality, the problem is caused by the printer. If the problem has gone, then it's the problem of the cartridge.
How to keep the compatible inkjet cartridge in good conditions
● Do not remove the protective wrapping until it's ready to use
● Do not store the cartridge in high or freezing temperature
● Keep the cartridge out of direct sunlight
● Do not touch the chip on the cartridge
● To attain the best result by using foamless cartridge, shake the cartridge well before installing
● Do not move the installed cartridge from printer; otherwise the print head will be dry and cause abnormal printing